Ride of a lifetime
5 April 2017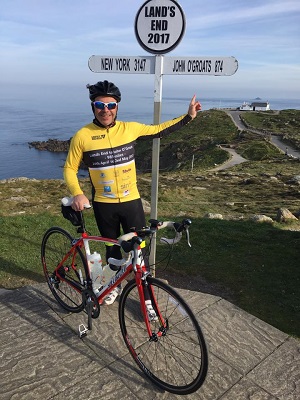 Champagne was popped as Steve and his four other fellow cyclists stepped off their bikes at the 988 mile mark in John O'Groats. 9 days, 988 miles and every weather condition later, they had completed their challenge and Steve is now back to tell the tale.
They cycled through sunny, rainy, windy and even snowy conditions, but the fab five progressed their way through their journey despite the forever changing British weather.
It was touch and go from day one with Steve falling off his bike and breaking a rib. Steve was determined to finish the challenge despite it being an extremely tough day. Steve explains:
"The pain made it a struggle, but the thought of completing this challenge for such an amazing cause got me through, failure was not an option".
A few days and over 300 miles in, pulls and strains started to creep in and due to a knee injury, Steve cycled over 50 miles with just one leg. Keeping energised on flapjacks and sugary treats, the fab five made their way through the country taking in some incredible views along the way. Setting off at 6am and arriving gone 10pm some evenings, they were lucky enough to take in some breathtaking sunrises and sunsets along the way. Steve says:
"I have never seen such astonishing views; it is something I would have never experienced if I hadn't taken on this challenge".
Completing over 100 miles per day, the team kept up their energy and spirits by supporting and encouraging each other through, with one exception. After completing nearly 100 miles on day 5 and thinking he had almost completed another day, the team drop a bombshell on Steve and reveal they have an additional 35 miles, at this point, Steve didn't think he would manage it.
A chip cob and pot of tea later, Steve describes the final stretch of that day:
"I had a minute to myself and didn't think I could do it. However, something pulled me through and that ride was literally the ride of a lifetime and the best part of my challenge. Completing over 35 miles in just 2.5 hours after already cycling almost 100 miles was a fantastic achievement for me, we really worked as a team supporting each other and all taking our turn to push the rest along. There was no option but to hit the pedals hard and get to Carlisle in time to eat and sleep before setting off for Glasgow the following day".
With incredible support from many friends and colleagues, Steve has raised over his target amount for CHECT UK. (as did his fellow cyclists for their chosen charities) Now it's time for them to rest and recuperate.
Well done team LEJOG!