EYE CANCER CHILDREN TURNED AWAY FROM PRACTICES
28 February 2018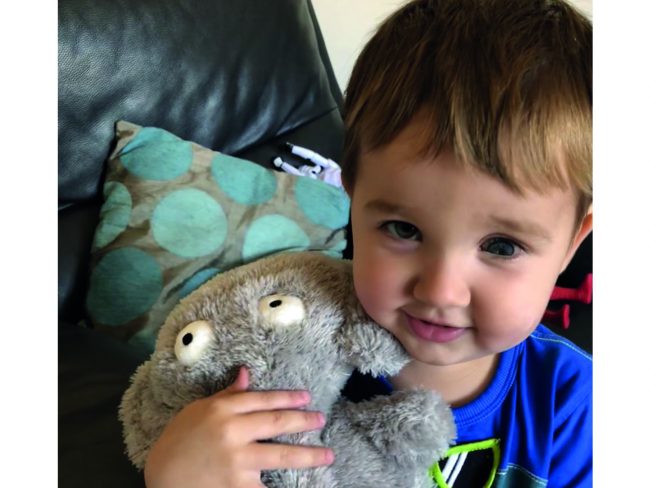 (Embargoed until Wednesday 28 February 2018)
Almost half of optical practices approached by parents of children later diagnosed with eye cancer last year refused to see the children. 
In 2017, eleven practices across the UK were contacted by parents concerned about their child's eyes, who was subsequently diagnosed with retinoblastoma, a rare form of eye cancer affecting babies and young children. Five of the practices refused to make appointments because of the child's age.
Patrick Tonks, Chief Executive of the Childhood Eye Cancer Trust (CHECT), which released the figures today*, said: "We understand that opticians do not usually see babies and very young children for routine eye examinations. However, it is important that frontline, non-optical staff are trained to recognised those red flag symptoms described by parents which could indicate a serious condition, and which require urgent examination by an optometrist or GP."
To aid practices to do this, CHECT has developed an Opticians Protocol on Retinoblastoma. Endorsed by the College of Optometrists and the Royal College of Ophthalmologists, the Protocol is written in lay language and is aimed at all practice staff, including receptionists and dispensing opticians. It describes certain red flag symptoms which could indicate retinoblastoma, and informs staff of the appropriate action to take.
Tonks continues: "CHECT recommends that the Opticians Protocol is part of every practice's in-house training programme for staff, and ask opticians to join us in working to prevent children with eye cancer having their diagnosis delayed."
In 2017, 57% of children were referred urgently to a specialist centre, up from 40% in 2016. However, 43% of children waited longer than this, with 11% waiting over six months.  Many families have to make several visits to their GP or other healthcare professional before the appropriate tests are carried out.  NICE guidelines state that a child should be referred urgently (for an appointment within two weeks) if retinoblastoma is suspected**
 CHECT released the figures today to mark Rare Disease Day, which aims to raise awareness about rare diseases and their impact on patients' lives. Retinoblastoma (Rb) is a rare form of aggressive eye cancer affecting babies and small children under the age of six, with around one child a week being diagnosed in the UK. Early diagnosis is essential in order to save a child's eyes, sight and life. Sadly, more than 70% of children diagnosed with retinoblastoma will lose an eye to stop the cancer spreading.
The main presenting symptoms of children diagnosed with Rb in the UK between 2012 and 2017*, were:
Leukocoria – 64%
Squint – 33%
Change in colour of iris – 13%
Redness or swelling without infection – 7%
Roaming eyes / child not focusing – 7%
Loss of vision – 7%
Absence of red eye – 1%
For more information on the Opticians Referral Protocol for Suspected Retinoblastoma, please contact petra.maxwell@chect.org.uk . The Protocol can be viewed at www.chect.org.uk/optician .
NOTES TO EDITORS
* Data was gathered by the Childhood Eye Cancer Trust from parents of children diagnosed with Rb in the UK in 2017. In total, 54 children were diagnosed. Data was collected from 37 children and a further 8 children were diagnosed as a result of genetic screening. It was not possible to collect data for the remaining 9 children. Overall, CHECT has gathered figures from the parents of 215 children diagnosed with Rb in the UK between 2012 and 2017.
** Consider urgent referral (for an appointment within 2 weeks) for ophthalmological assessment for retinoblastoma in children with an absent red reflex (New NICE recommendation for 2015)
The Childhood Eye Cancer Trust (CHECT) is a UK charity dedicated to helping people affected by retinoblastoma. It:
Provides ongoing support and information to families and individuals.
Funds research into the prevention and treatment of retinoblastoma.
Raises awareness among health professionals and the public.
Influences policy to improve services for patients.
Retinoblastoma is a rare and aggressive form of eye cancer that affects babies and young children, mainly under the age of six. It occurs 1:20,000 of live births and represents 3% of all childhood cancers and 10% of cancers in babies under the age of one in the UK.
98% of children survive retinoblastoma in the UK but early diagnosis is crucial in order to save a child's eyes, sight and life. The most common symptom is leukocoria.
Supported by the Royal College of Ophthalmologists and the College of Optometrists, the Opticians' Referral Protocol for Suspected Retinoblastomaaims to cut delays in diagnosis of childhood eye cancer. It has been adopted by Vision Express, Boots Opticians and numerous independent opticians.
It states that all staff working in an optical practice should be aware of the main signs of Rb and offers clear information on what action to take if a parent is concerned by any of these main symptoms of Rb.
Let us know if your practice is able to adopt this protocol and help with our battle against retinoblastoma. Please email petra.maxwell@chect.org.uk
CHECT has been a registered charity since 1987 and was formerly known as the Retinoblastoma Society.
For more information on CHECT or retinoblastoma (also known as Rb), including signs and symptoms, diagnosis and treatment options, please visit chect.org.uk/optician .
Media enquiries:
Photos and case studies are available.
For all media enquiries please contact:
Petra Maxwell (Information & Research Manager)
Tel: 020 7377 5578 / 07771 593344
Email: petra.maxwell@chect.org.uk